All of our YAF Winter Challenge activities were chosen to be as accessible as possible for all. Modification or substitution of activities is encouraged as needed to ensure children are able to complete the program.
General Guidelines
Have fun! Remember, the main goal of the YAF Winter Challenge is to be active and have fun!
Be flexible! Duration, specific activities, breaks, activities done per day, etc. can all be determined by each youth participant or a parent/guardian.
Be safe! As an adult for help or supervision when needed. Ensure you are following all current local health & safety guidelines, including for COVID-19. Current recommendations for social-distanced and safe outdoor activities from the Minnesota Department of Health can be found HERE.
Courage Kenny Rehabilitation Institute Sports & Recreation
Courage Kenny Rehabilitation Institute Sports & Recreation offers barrier-free opportunities for you to explore new skills or hone your competitive edge in a new sport or one you already enjoy. Staff from Courage Kenny assisted with developing the plan for the YAF Winter Challenge Activity Cards to be as adaptive as possible.
For more information on resources or help with activity modification, please click HERE or contact Courage Kenny Northland at (218) 726-4834 or [email protected].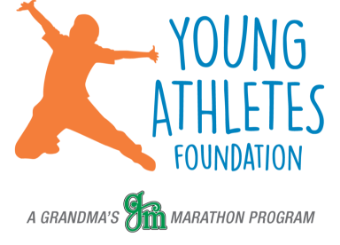 YOUNG ATHLETES FOUNDATION
The Athletes Foundation (YAF), the charity arm of Grandma's Marathon, was created in 1990 to assist with the promotion and development of healthy and active lifestyles for youth throughout Carlton, Cook, Douglas, Lake, and St. Louis Counties. Since its inception, the YAF has donated more than $1.1 million to the community's youth athletic, recreational, and nonprofit organizations.

If you are interested in volunteering for any of our Young Athletes Foundation (YAF) events or have any other questions, please contact our Program Director Alivia Nelson via email at [email protected] or call our office at (218) 727-0947.