The Essentia Health Fit-n-Fun Run is held each May for elementary school students in the Duluth Public Schools (ISD 709) district.
In keeping with our mission of providing our area's children with opportunities and pathways to live healthy and active lifestyles, the Young Athletes Foundation brings together more than 2,000 elementary school students for an end-of-year celebration of the hard work they put into their physical education classes.
Participants have the chance to run 1/4 mile race with their classmates, and each student is presented at the finish line with a ribbon and commemorative T-shirt.
Additional support for the Fit-n-Fun Run is provided by Duluth Public Schools and Advantage Emblem & Screen Printing.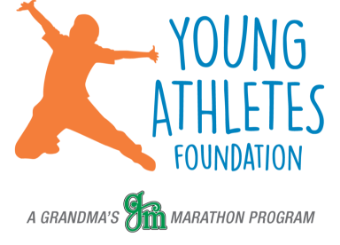 YOUNG ATHLETES FOUNDATION
The Young Athletes Foundation (YAF), the charity arm of Grandma's Marathon, was created in 1990 to assist with the promotion and development of healthy and active lifestyles for youth throughout Carlton, Cook, Douglas, Lake, and St. Louis Counties. Since its inception, the YAF has donated more than $1.3 million to the community's youth athletic, recreational, and nonprofit organizations.

If you are interested in volunteering for any of our Young Athletes Foundation (YAF) events or have any other questions, please contact our Program Director Alivia Nelson via email at [email protected] or call our office at (218) 727-0947.