Registration for the 2024 Park Point 5-Miler & 2-Mile Walk will open on January 1.
Looking for a perfect way to enjoy the height of a northeastern Minnesota summer? Check out the Park Point 5-Miler & 2-Mile Walk!
With an out-and-back racecourse sandwiched between the Duluth Harbor and open waters of Lake Superior, participants are treated to some wonderful views at the region's oldest road race.
PLUS, the post-race celebration offers some of the greatest traditions of a midsummer night in Minnesota, including food trucks and plenty of yard games for both kids and adults.
PARK POINT 5-MILER & 2-MILE WALK
The Park Point 5-Miler & 2-Mile Walk course starts and finishes in front of the Pavilion on Duluth's Park Point.
The course travels along Minnesota Avenue before a turnaround takes participants back to the finish line, treating runners and walkers alike with spectacular views of the Duluth Harbor.
Pricing Structure (Adults)
July 1-July 15 — $15
July 16-August 31 — $20
September 1-Race Day — $25
Pricing Structure (Youth – Ages 18 & Under)
July 1-Race Day — $10
REGISTRATION & PACKET PICKUP
Online registration will be open until 11:59 p.m. CT on Wednesday, September 6. Race packet pickup and in-person registration will be available at the following times and locations:
THURSDAY, SEPTEMBER 7
12:00 p.m. to 6:00 p.m. @ Grandma's Marathon Office
FRIDAY, SEPTEMBER 8
3:00 p.m. to 5:30 p.m. @ Enger Park Golf Course
Awards will be presented to the overall winners of the men's and women's competitive heats, the overall winners of the men's and women's masters heats, and the top men and women age division finishers across all heats (including the recreational heats).
If you race in the competitive or masters heat and do not win the overall award, you will then become eligible to win an age division award. IMPORTANT: Overall winners cannot also win an age division award.
Awards for the Minnesota Mile will be available for pickup at the Enger Park Golf Course (1801 West Skyline Parkway) beginning at 7:00 p.m. the evening of the race. There will be no formal awards ceremony.
No pets, motor vehicles, bicycles, handcycles, hand-cranked wheelchairs, roller skis, inline skates, or unregistered participants are allowed on the racecourse.
Baby joggers and strollers are allowed at YAF events but must start in the back of the corral.
Pushrim wheelchair competitors, duo teams, and other adaptive athletes are encouraged to participate but must follow all Wheelchair & Adaptive Program Guidance. NOTE: Adaptive athletes are asked to contact Race Director Greg Haapala via phone at (218) 727-0947 prior to registering so that all reasonable accommodations can be provided.
2023 PARTICIPANT SHIRT
All Minnesota Mile participants will receive a commemorative long sleeve shirt, included with the entry fee. NOTE: Adult and youth sizes may vary in color and style.
2023 PARTICIPANT SOCKS
All Minnesota Mile participants will also have the option to purchase commemorative Fitsoks for $7, either during registration or at packet pickup.
Fitsoks Sizing Information
Medium — Men's Shoe Size 6-8; Women's Shoe Size 7-9
Large — Men's Shoe Size 9-11; Women's Shoe Size 10-12
Al Hoag won the 1975 race with a time of 24:15, and that time has now stood as the men's event record for close to five decades as the men's event record.
Jennifer Houck, meanwhile, owns the women's event record after running 27:50 in 2010, which makes her to this day the only woman to finish under than 28:00 mark.
NOTE: The non-binary category has been an available option to participants since 2022, but as of now no one has registered in that particular category.
Full historical results of the Park Point 5-Miler & 2-Mile Walk can be seen HERE.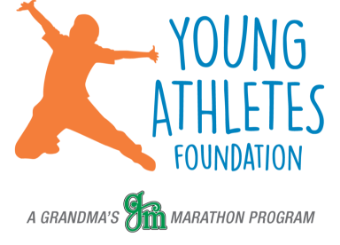 YOUNG ATHLETES FOUNDATION
The Young Athletes Foundation (YAF), the charity arm of Grandma's Marathon, was created in 1990 to assist with the promotion and development of healthy and active lifestyles for youth throughout Carlton, Cook, Douglas, Lake, and St. Louis Counties. Since its inception, the YAF has donated more than $1.3 million to the community's youth athletic, recreational, and nonprofit organizations.

If you are interested in volunteering for any of our Young Athletes Foundation (YAF) events or have any other questions, please contact our Program Director Alivia Nelson via email at [email protected] or call our office at (218) 727-0947.