Registration for the 2024 Fitger's 5K will open on January 1.
The iconic Fitger's 5K has grown into one of the state's premier spring races, offering a perfect challenge for runners of all ages and abilities while taking participants on a scenic tour of newly-renovated downtown Duluth.
Whether you're in the middle of training for a bigger spring or summer race — Grandma's Marathon, anyone? — or a first-timer wanting to be in a race environment for the first time, the Fitger's 5K is the perfect race for you.
With a new racecourse that now takes you through downtown Duluth and Canal Park before turning onto the beautifully scenic Lakewalk, this race is challenging enough for competitive participants while also enjoyable for more casual participants.
FITGER'S 5K
The Fitger's 5K course starts and finishes just outside the historic Fitger's Complex in downtown Duluth. Participants will travel westward toward the Sheraton Hotel, where they will then divert to Michigan Street and continue toward The Depot.
The racecourse then turns to onto 5th Avenue West, circles around the DECC on Harbor Drive, and returns to the Fitger's complex using Duluth's Lakewalk.
Pricing Structure (Adults)
July 1-July 15 — $15
July 16-August 31 — $20
September 1-Race Day — $25
Pricing Structure (Youth – Ages 18 & Under)
July 1-Race Day — $10
REGISTRATION & PACKET PICKUP
Online registration will be open until 11:59 p.m. CT on Wednesday, September 6. Race packet pickup and in-person registration will be available at the following times and locations:
THURSDAY, SEPTEMBER 7
12:00 p.m. to 6:00 p.m. @ Grandma's Marathon Office
FRIDAY, SEPTEMBER 8
3:00 p.m. to 5:30 p.m. @ Enger Park Golf Course
With the 2023 Fitger's 5K falling on Earth Day, Grandma's Marathon-Duluth, Inc. and the Young Athletes Foundation (YAF) have announced plans to make it a zero-waste event.
Included for the 1,500-person race will be several initiatives aimed at curbing the local event's impact on the environment:
Participant shirts, made by Leslie Jordan, will be made of recycled polyester.
3,000 reusable cups, provided by Hiccup, will be available to participants at a mid-race water station and the finish line.
Compostable post-race refreshments available to participants will be bananas (Super One Foods), Old Dutch chips (Project Nice), and race rolls (Great Harvest).
Waste sorting stations and a bike valet will be available throughout the event.
Age division award winners will be presented with marigold flower boxes.
Awards will be presented to the overall winners of the men's and women's competitive heats, the overall winners of the men's and women's masters heats, and the top men and women age division finishers across all heats (including the recreational heats).
If you race in the competitive or masters heat and do not win the overall award, you will then become eligible to win an age division award. IMPORTANT: Overall winners cannot also win an age division award.
Awards for the Minnesota Mile will be available for pickup at the Enger Park Golf Course (1801 West Skyline Parkway) beginning at 7:00 p.m. the evening of the race. There will be no formal awards ceremony.
No pets, motor vehicles, bicycles, handcycles, hand-cranked wheelchairs, roller skis, inline skates, or unregistered participants are allowed on the racecourse.
Baby joggers and strollers are allowed at YAF events but must start in the back of the corral.
Pushrim wheelchair competitors, duo teams, and other adaptive athletes are encouraged to participate but must follow all Wheelchair & Adaptive Program Guidance. NOTE: Adaptive athletes are asked to contact Race Director Greg Haapala via phone at (218) 727-0947 prior to registering so that all reasonable accommodations can be provided.
2023 PARTICIPANT SHIRT
All Minnesota Mile participants will receive a commemorative long sleeve shirt, included with the entry fee. NOTE: Adult and youth sizes may vary in color and style.
2023 PARTICIPANT SOCKS
All Minnesota Mile participants will also have the option to purchase commemorative Fitsoks for $7, either during registration or at packet pickup.
Fitsoks Sizing Information
Medium — Men's Shoe Size 6-8; Women's Shoe Size 7-9
Large — Men's Shoe Size 9-11; Women's Shoe Size 10-12
Joe Moore holds the all-time men's event record in the Fitger's 5K, finishing with the only men's time under 15:00 in the event's history — his mark of 14:53 in 2013 is still the mark to beat.
Amy Lyons, meanwhile, holds the all-time women's event record in the Fitger's 5K, finishing with the only women's time under 17:00 in the event's history — her time of 16:55 in 2016 is still the market to beat.
John Eide was the event's first-ever non-binary finisher and still holds the all-time event record with a time of 24:37 in 2022.
Full historical results of the Fitger's 5K can be seen HERE.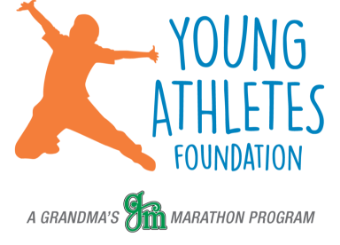 YOUNG ATHLETES FOUNDATION
The Young Athletes Foundation (YAF), the charity arm of Grandma's Marathon, was created in 1990 to assist with the promotion and development of healthy and active lifestyles for youth throughout Carlton, Cook, Douglas, Lake, and St. Louis Counties. Since its inception, the YAF has donated more than $1.3 million to the community's youth athletic, recreational, and nonprofit organizations.

If you are interested in volunteering for any of our Young Athletes Foundation (YAF) events or have any other questions, please contact our Program Director Alivia Nelson via email at [email protected] or call our office at (218) 727-0947.